Made in USA for 23+ years! Install it yourself many different ways indoors or outdoors using just about any 12V battery. Great battery back-up system. Trusted brand by thousands of customers.
Only offered before for koi pond fish feeding this newly offered small pet indoor/outdoor battery system combo includes: CSF-3XL Super Feeder® with 1.5 gallon hopper, 12VDC power supply (only needed for pre-calibration of feeder at home before mounting), an outdoor 12 Volt DC weekly digital timer for up to 8 daily or group of days programming enclosed in an approved outdoor metal box (mounts to post or wall). 50 feet of wire is also included. 12 Volt Battery not supplied. The weekly digital timer will keep exact time and programs even when disconnected from its 12 volt battery source because of its internal battery back-up feature. This set-up is available for people who do not have a 120 volt power source available near their Super Feeder®. All you will need is any 12 volt battery--the larger the better for better capacity. You may keep a trickle charger on your battery, or depending on size of your battery, you probably will not need to recharge it for a very long time because the intermittent battery draw is extremely small while feeding (125 mA) and near nothing like a wrist watch when not feeding. Of course a solar battery system would be great for extended use, but not required. This package deal will require some mounting handyman works and very basic electrical wiring knowledge with supplied instructions. Great combo if a battery set-up is needed.
OVERALL SIZE: CSF-3XL Feeder overall size (space needed): 12 x 3 x 22 inches tall
NOTE: An indoor standard 120V/12VDC power supply is also included to test/pre-adjust portion controller of your Super Feeder before installation.
When mounting this feeder outdoors, make sure you protect the chute opening from animals like raccoons with a guttering system or enclosing the feeder appropriately. Chute cover important note: Even though the chute cover will protect the chute opening from the outdoor elements, it will not protect intrusion by large animals, particularly raccoons that could break it off. The chute area should be adequately protected by an external device or the feeder installed in an enclosure of some type as shown throughout our websites with past customers' pictures.
Note: Small 1/4" round (spherical) kibbles like offered by Science Diet or other brands are recommended for very best performance. Please be aware that the feeder does not "count' kibbles, but tests have shown that an overall accuracy of +/- .1 to .2 ounce from one portion to another is possible with recommended kibbles. Most other kibbles will work well up to 5/8" diameter, but with so many shapes/sizes of kibbles on the market, it is impossible to predict exact results as far as exact accuracy is concerned. Although performance is guaranteed with recommended food as described, please be advised that due to variance of kibble sizes and shapes, 100% portion accuracy simply cannot be guaranteed for all feed cycles. That would apply to any feeder feeding oddly shaped kibbles.
NOTE: USING A NAME BRAND LIKE "SCIENCE DIET" IS ONLY A BRAND EXAMPLE.
IMPORTANT NOTE FOR THIS COMBO! DO NOT EVER hook-up 2 power supplied/adapters/transformers at one time when setting up this combo. You may damage your feeder and/or other accessories and void your warranty. The standard SMALL power adapter included with all feeders is only to initially run and adjust your feeder indoors before final mounting outdoors using only the external 12V battery used by itself. ALSO, to program the supplied outdoor timer, only use the instructions supplied with the timer manufacturer to program the times you want to feed per day (on-off cycles). Only 2 minutes of on time per programmed feed cycle is recommended.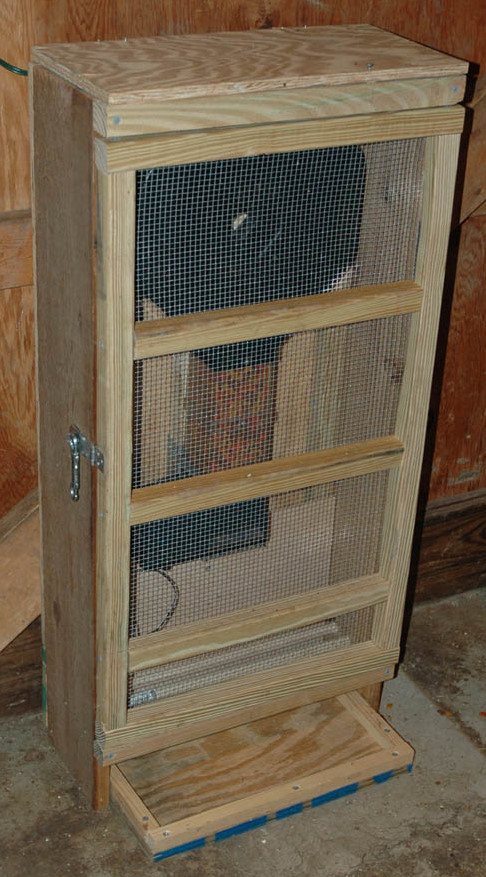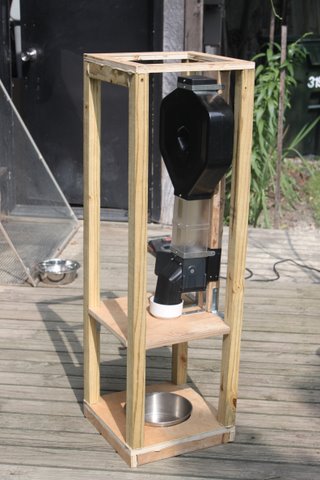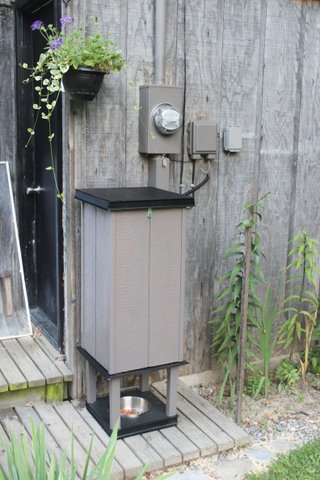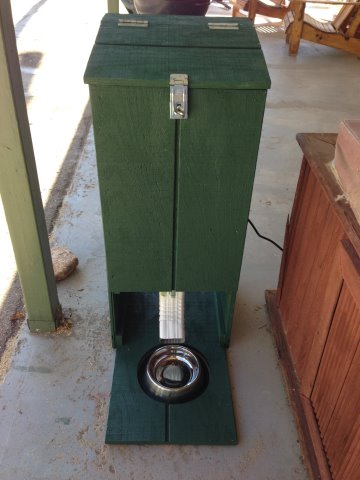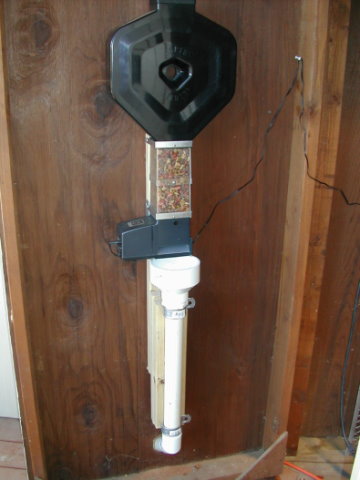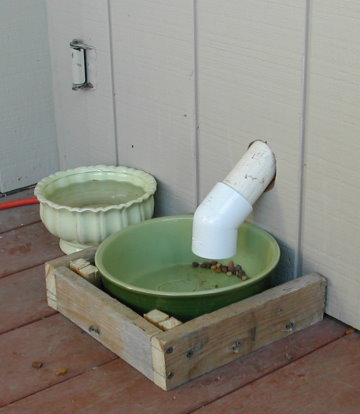 GREAT RACCOON-PROOF INSTALLATIONS ABOVE! MORE EXAMPLES FROM OUR CUSTOMERS: http://www.super-feed.com/small.html