Free shipping plus 5% off on all Super Feeders! Mix all types of dry fish food, no need for what some call "twin feeder." Are you tired of cheap aquarium feeders you mount on the side of an aquarium glass that only work for a few days, clump up and quit? This professional "high-end" basic ASF-1 aquarium Super Feeder holds up to 22oz (2 3/4 cups by volume) of dry food like flakes, granules and pellets using one included 2-cup capacity clear extension (the black dispenser holds 3/4 cup). It includes a 120-240V to 12VDC power supply, a special "Moisture Trap" funnel for flakes and instructions. Operate this Super Feeder with any lamp timer you may already have, or you can even use a home automation system (see info below). The basic feeder without the clear extension is 7 1/4"" long x 3 1/4" wide x 4 3/4" tall (or 8 1/4" tall with the included 2-cup clear extension). Great for very large aquarium! Extra clear extensions or even a large 1.5 gallon hopper are available for more capacity. Never obsolete and disposable--all parts readily available!
Original ASF-1 Super Feeder serviceable for years to come, made in USA and sold by Super-Feed for over 24 years! All parts readily available and easy to replace if ever needed. Add flakes, pellets or mix of dry fish food, adjust portion timing and use just about any simple lamp timer to trigger. Some Wi-Fi/automation/voice command systems may also be used. See example how Google works for a customer if wanting to use voice activation. For cat feeder but operation is the same.
You may find more info on our informational website at: http://www.super-feed.com/product.html
Examples of installation: http://www.super-feed.com/trap.html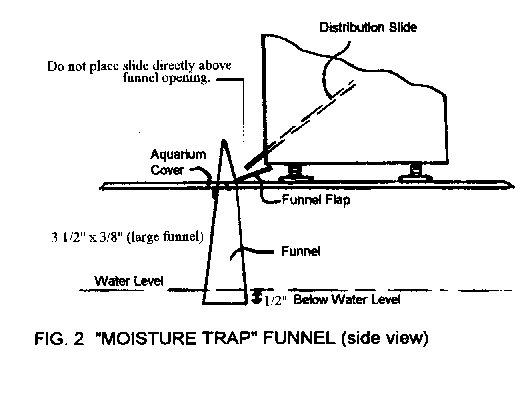 You may not need to install the funnel in the water as shown but is best for flake distribution. This will minimize moisture toward the feeder and fish will eat out of the bottom, thereby keeping flakes from dispersing as much. Many ways to install it or direct the food your own way into your aquarium. Any aquarium feeder should never be totally enclosed directly above open water without proper ventilation. Best exposed to open-air. Even typical ones hung to side of aquarium above open water will most likely experience clogging with flakes after a few days.
Feeding turtles with mixed food as shown below. Customer used the L shaped metal bracket we offer to mount it to a piece of vertical 2x4 lumber to keep it securely in place.
INTERNATIONAL CUSTOMERS WITH 220-240V, PLEASE CLICK: /faqs/
How to operate the Super Feeder® with a cell phone, iPad, Android device or home automation system with with voice command like Alexa or other type:
First, be sure to adjust your super feeder's desired portion size by plugging the power supply into a power outlet and adjusting the feed duration controller with the little supplied plastic screwdriver as explained in your feeder's manual or video. Then plug the power supply into the Smart Plug after you have installed it just like you would a lamp.
System we tested and recommend:
The TP-LINK HS100 Smart Wi-Fi Plug is perfect to control your Super Feeder® remotely for up to 15 meals/snacks per day. It is one of the easiest we tested to install and use. Just follow directions included with the Smart Wi-Fi Plug. All you will need to do once installed is program suggested 2 minutes of "on" time for each feed cycle time of day you want. Make sure you program "on" and "off" time, i.e. 8:00 AM and off at 8:02 AM for each time of day you want to feed your pet. Also select all or certain days of the week you want to trigger your Super Feeder® to feed your pet. The feeder runs only for time in seconds you previously adjusted the feeder to give you the portion needed and then stops. You may of course trigger your Super Feeder® anytime by remotely turning it on for a few seconds and turning it back off yourself from your device. You may install and operate several Wi-Fi Plugs and feeders simultaneously in different places within range of local Wi-Fi. Note: The feeder must have been powered down for at least 2 minutes between feed cycles to assure it triggers again. If it has not been off long enough like repeatedly turning it on and off, the feeder will not work, which is normal. You could also control the Super Feeder® by voice command using this TP-LINK Smart Plug compatible with Amazon Alexa®. The TP-Link Camera could be a great addition. Many ways to operate your Super Feeder®. This is what makes it so unique!
(These systems/accessories not supplied)
Other systems recommended by past customers:
For Wi-Fi control, the Wemo Wi-Fi switches by Belkin have been used successfully. Various systems that are currently being used are available from smarthome.com Note: Some systems offered on the market today suffer from perpetual changes and updates rendering some systems unusable if not compatible with certain Wi-Fi systems. Some Wi-Fi switches on the market may not work if the socket does not turn off completely (some do and some may not like used for dimming lights), meaning that any residual power coming out of it during its off time will prevent the feeder from resetting itself between programmed feed cycles and will prevent it from triggering.
Using various timers:
You still retain the option to use just about any type of common lamp timer to operate your Super Feeder®. Anything that will turn on a lamp or appliance will trigger and operate the Super Feeder®.
Iris brand smart outlet:
NOTE: Iris brand "smart outlet" in-wall has been reported to work with smart phone. Z-Wave Smart Outlet the "Quirkey+GE Outlink Smart Outlet systems will work. Some systems by Leviton may not work properly due to the fact that their systems such as Z-Wave module, Z-Wave receptacle and dimming modules may not completely turn off and thus not work with the Super Feeder. Any socket must not bleed any voltage while in off mode.
Video examples:
SUPER COOL VIDEO OF STINGRAY AQUARIUM SETUP:
https://www.facebook.com/csf3superfeeder/videos/631867440602888/
OTHER VIDEOS:
https://www.youtube.com/watch?v=KmMBQZNSxwA
https://www.youtube.com/watch?v=_NzVyJHk5qw
See installation on large salt water tank: https://youtu.be/U3BLblVSaWw
Product Reviews
I have had the feeder set up for a week now and it works great.
Works just as I needed it to
Looked at lots of cheapies, but I wanted one with a cord. No batteries.....and there are't many options. This looks as if it will last forever!