Made in USA for 23+ years! Battery operated, mount it your very own way to feed your koi pond fish. Adjust it from very tiny to larger portions up to 8 times per day all year long.
This great outdoor battery system combo deal includes: 38oz (1 Quart and 3/4 cup) Koi-Pond outdoor Super Feeder®, 12 Volt DC 'weekly" digital timer in outdoor approved metal box (mounts to post, wall) which will provide up to 8 daily feeding cycles plus 50 feet of wire. This DC digital timer set-up is the simplest to install and will hook up directly to any 12 volt battery to power itself and the feeder. 7 day digital timer will keep exact programmed time even when disconnected from its 12 volt battery source because of its internal battery back-up feature. This set-up is available for people who do not have a 120 volt power source available near their Super Feeder. All you will need, is a 12 volt battery. You probably will not need to recharge your battery for a very VERY long time (NO NEED FOR EXPENSIVE SOLAR PANEL), because the current draw is extremely low for the timer and the feeder will only run for a minute or so per feed cycle. With such a small battery draw and some ingenuity, you may even be able to install a small 12 volt battery pack inside the box.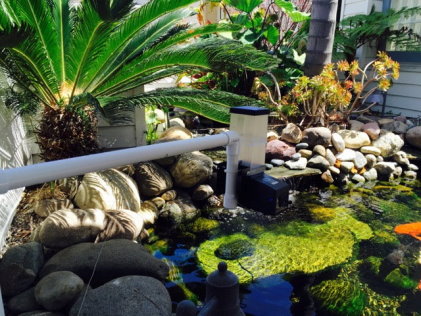 Mounting examples: http://www.super-feed.com/outdr.html
INTERNATIONAL CUSTOMERS WITH 220-240V: Please click on "Q&A/Shipping" above and http://www.super-feed.com/international_order_policy.htm
http://www.super-feed.com/outdr.html
SEE "FEEDER ACCESSORIES" FOR OPTIONAL PIPE SWIVEL MOUNTS TO GET IDEAS ON HOW TO MOUNT IT OR PURCHASE ONE. READILY MOUNTS TO 4X4, 2X4 OR PIPE (not supplied).