Made in USA for 23+ years! Many modes of operation, indoor or outdoor applications and ease of maintenance and repairs. Trusted brand for years and years by thousands of customers.
This KSF-2XL Koi pond SUPER FEEDER can be used as a quart set-up or can be fitted with a 1.5 Gallon hopper. It slips over one or two of the supplied clear hopper extension to let you know when the food gets low. If using the two supplied extensions, it will supply up to 1.8 gallon reserve of pellets. This "Basic package" (COMBO DEALS INCLUDE EVERYTHING NEEDED) comes with 2 clear hopper extensions, 1 "L" multi-mount mounting bracket and 2 straps, 1 indoor type low voltage power adapter with terminal screws, hardware and instructions. MOUNTING BRACKETS READILY FIT ANY 4X4 OR 2X4--CAN ALSO BE HUNG. You will need appropriate length of 2-conductor wire and a suitable lamp/appliance or similar type of timer to plug your power adapter into (to trigger and power the feeder), or you may use a sprinkler timer or "Malibu" lights type timer/transformer, in which case you can hook-up your feeder directly to the 24 or 12 volt AC output. Our combo deals include a remote timer of your choice (we have lots of various timers available if you do not already have one). TWO HOPPERS COULD EVEN BE STACKED TOGETHER TO PROVIDE UP TO 3.3 GALLONS OF CAPACITY! Voltage required: Power supply (supplied) 120V-60Hz 12VAC or DC output, all timers 120V 60Hz--Wi-Fi Socket 110V-240VAC 50-60Hz. USA style plugs only-not battery operated but could be. If a 120V power source is not available, you may even use any of our 6-24V timers listed here to use your own low voltage power source (some wiring required).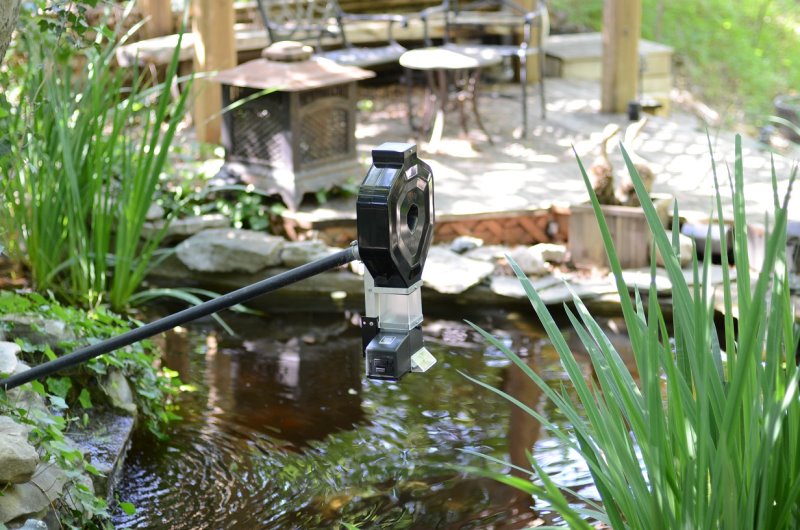 Mounting examples: http://www.super-feed.com/outdr.html
INTERNATIONAL CUSTOMERS WITH 220-240V: Please click on "Q&A/Shipping" above and http://www.super-feed.com/international_order_policy.htm
How to use the feeder with a regular external timer: Basically any plug-in timer like a lamp timer can be used. Just follow directions included in feeder's manual.
OVERALL SIZE: Feeder overall size (space needed): 12 x 3 x 22 inches tall
How to use feeder with a home automation system: You can plug the supplied power adapter into a 120V module controlled by your system. You then turn the module on for a couple of minutes with your system, which in turn triggers and powers the feeder. The feeder runs only for time in seconds you adjusted the feeder to give you the portion you want and then stops. When you turn the power off for a couple of minutes, the feeder resets itself and is once again ready to be triggered at the next programmed time. If your system has 12 to 24 volts output ac or dc, you can do away with the feeder's own power adapter and hook directly to the feeder. You could also control the feeder's run time entirely with your external system by setting the feeder's feed time controller to its maximum setting of 70 seconds. NOTE: If enclosed out of weather, we recommend our Wi-Fi socket listed on this store as ACWIFI Socket for iPhone control (see details). Systems below have also been known to work fine. Iris brand "smart outlet" in-wall has been reported to work with smart phone. Z-Wave Smart Outlet the "Quirkey+GE Outlink Smart Outlet systems will work. Some systems by Leviton may not work properly due to the fact that their systems such as Z-Wave module, Z-Wave receptacle and dimming modules may not completely turn off and thus not work with the Super Feeder.
Examples of home automation systems used with this feeder:
Camera: http://www.smarthome.com/insteon-75790wh-wireless-security-ip-camera-with-pan-tilt-and-night-vision.html
Remote-Controllable Dual Outlet: http://www.smarthome.com/insteon-2663-222-on-off-outlet-white.html/
Video examples:
https://www.youtube.com/watch?v=KmMBQZNSxwA
https://www.youtube.com/watch?v=_NzVyJHk5qw
1 year warranty excluding power adapter with 90-day warranty
Product Reviews
Work's great.no problems